84th Academy Awards Governors Ball Special Features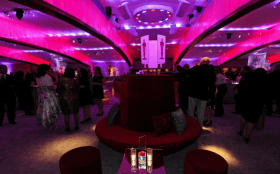 The 84th Oscars Governors Ball was inspired by Mediterranean architecture with a contemporary touch. Custom designed furniture by Lux Lounge EFR gave the event a more intimate and classy style.
To pair with the sparkling Swarovski crystals is our Banquette with High back and Corner Connecter. The beautiful flowers are sitting on top of our Ghost Cocktail table. The guests can step to our Red Velvet Bourne and 18" Round Red Velvet Ottoman for an open space with their cocktails. The entire setup give the guests an opportunity to enjoy an old world beauty with a new world comfort.
More about LUX LOUNGE EFR: 
Lux Lounge Event Furniture Rentals provides quality furniture rentals for indoor or outdoor functions like movie premiere, movie production, events, exhibitions, conferences, festival, trade show etc. in and around Los Angeles, Orange County, Santa Barbara, San Francisco, Las Vegas, Scottsdale and Palm Springs and San Diego.
We have worked at all Los Angeles and Orange County's major venues and realize the professionalism, creativity & organization needed to make your event a success. Our commitment to customer service is reflected in our work and we take pride in our ability to offer full rental solutions to our respected clients. Quite simply – we are committed to maintaining our enviable standing for excellence.
We have been offering a professional and efficient delivery service by ensuring your furniture arrives in excellent condition and on time.
We are a Los Angeles based full service company and since 2004, we have been providing lounge furniture rentals solutions to major entertainment brands, corporate clients, lifestyle publications, event planners and individuals.
 OFFICIAL PRESS RELEASE
84th Academy Awards Governors Ball Special Features
ENTERTAINMENT
World renowned drummer, Gregg Field and his band will lend their musical talents to compliment the Mediterranean inspired "elegance in the air" architecture with the sweet sounds of beautiful music. Grammy award winner, Jazz trumpeter, Arturo Sandoval will grace the stage. Guests will time travel through a rich, warm splendor of vacuum tubes and vinyls. The Vintage DJ, Jonathan Jacobs will spin original 78's, 45's and 33's on vintage turntables. A very special guest performer will make a first-time must-see appearance at the Governors Ball.
Please visit The Vintage DJ at www.vintagedi.com
LUX LOUNGE EVENT FURNITURE RENTALS

LUX LOUNGE EFR will be at 84th Academy Awards for the first time providing lounge furniture rentals and a design team with over 14 years experience in the special event industry. Lux Lounge's involvement with the Oscars Governors Ball has been a mixture of designing and manufacturing in-house custom-made pieces, from modern contemporary sectionals and original red velvet bournes with custom tufting, to the popular infinite high-back curved benches reupholstered with grey metallic fabric just for the Governors Ball. Working on this project gave us the opportunity to take the word "glamorous" and translate that into lucite custom cocktail tables that will take center stage and shine like crystal. Our in-house fabrication department was another significant attribute when designing two large 16ft diameter bars made of aluminum and plexiglass, and wrapped in a metallic copper finish, taking the East and West sides of the ballroom. Lux Lounge is very excited to be providing 580 pieces of lounge furniture, barstools, cocktail tables, and bars for this year's Governors Ball.
Please visit Lux Lounge at http://www.LuxloungeEFR.com

RESOURCE ONE INC.

Resource One Inc. Luxury Linen is once again a proud scenic fabricator for this year's Oscars Governors Ball. From story board concept to final fruition, our commitment is to bring the finest in textile designs and decorative accessories to the Governors Ball. Decor elements for this year's Governors Ball include a tranquil yet sophisticated mix of fabrics, such as Champagne Metallic Mesh, Charcoal Sequin Tulle, Bronze Embroidered Circle Silk, Beige Metallic Damask, Pewter Circle Ribbon Taffeta, and custom Charcoal Tufted Rhinestone. A deep red flocked damask pattern accents the entire color palette.
Items provided utilizing the above textiles include custom table linen and chair covers. This year we are bringing chic new ottomans and over a hundred fifty decorative pillows into the mix, as well as our Gunmetal table lamps.
It's always exciting to see the Ballroom transformed into the glamorous setting that is revealed when the doors are opened. We're sure this year's eclectic mix of modern sophistication will be a winning one.
Please visit Resource One at www.resourceoneinc.com
One Response to "84th Academy Awards Governors Ball Special Features"