A statement making piece! A by-product of sustainable teak wood harvesting in Indonesia, this bench was made from the root of the teak tree. Due to the natural and organic state of the wood, the size, shape & color vary from piece to piece. This only adds to its beautifully imperfect look! Each piece of teak root furniture is uniquely one-of-a-kind. Brand new, recently crafted & just arrived from Indonesia. Simply sanded and polished to keep it in its natural beautiful state.
Related Products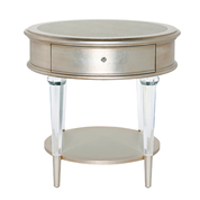 Glamorous hand painted silver metallic wood table with lucite legs.
Diam30″ x H29.5″
Get Quote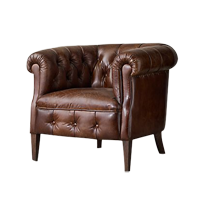 This tufted Gentleman's Arm Chair is essential for the Speakeasy look.
Dimensions: W35″ x D35″ x H30″
Get Quote