65th Annual EMMYs Celebrity Backstage Suite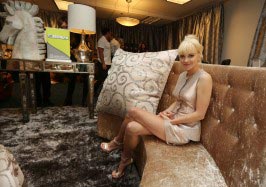 Lux Lounge EFR Makes a Splash at the 65th Annual EMMY Awards 
Luxury Brand represented at the EMMYs 
Nothing screams Hollywood and luxury like major award events like the EMMY Awards. And nothing says luxury like Lux Lounge Event Furniture Rentals.
The company is dedicated to providing luxurious, elegant furniture for upscale events and promotions. Lux Lounge EFR has outdone itself in its ten years of business, and providing furniture for a high-end backstage lounge at the Emmy Awards might just be the icing on the cake. The company teamed up with HGTV star Josh Johnson for the Giving Suite lounge, where their furniture greeted some of the top celebrities in television.
If there was an Emmy award for set design, it should certainly go to Josh Johnson and Lux Lounge EFR.


 For the entire press release, read below:
Bi Coastal-Based Lux Lounge EFR Makes A Red Carpet Splash At The Giving SuiteTM By Backstage Creations At The 65th Emmy Awards®
LOS ANGELES, CA (Sept. 15, 2013) Pulse Media International – A leader in luxury handcrafted Lounge furnishings Lux Lounge Event Rental Furniture will showcase its custom, high design lounge furniture at the Giving SuiteTM presented by Backstage Creations during the 65th Emmy® Awards.
This Sunday, as celebrity presenters walk backstage, they will be invited to stop by the Giving Suite and be introduced to the exquisite design of Lux Lounge EFR through a display of the Custom Collection Furnishings. It is expected that high-profile celebrities such as Michael Douglas, Matt Damon, Claire Danes, Jimmy Kimmel and Sofia Vergara will be getting up close and personal with Lux Lounge EFR.
Each celebrity guest will be able to relax on this unique blend of original lounge furnishings. The staged ambiance makes it even more comfortable and relaxing.
"Lux Lounge EFR's Furnishings have been a favorite choice among celebrity clientele and designers since the brand's inception, but being part of one of the biggest nights in the industry, is something we take pride in," said Marco Fonseca, Lux Lounge EFR's president. "It isn't every day that you see a full high end Lounge area backstage, behind the red carpet, during an award show. We are excited to be the Official Lounge Furniture to bring custom designed products to celebrities during this exclusive Hollywood event."
In addition to treating celebrity guests to an array of luxury goods, the lounge will serve as a Giving SuiteTM as celebrities who participate will engage with brands to earn funds up to $150,000 in donations to the Television Academy Foundation. This year's Giving SuiteTM is being designed by HGTV Design Star Josh Johnson. Josh provides a luxurious and stylish backdrop for celebrity guests to mingle while they peruse the products and lounge within his custom designed vignette, which is provided by Lux Lounge EFR.
For more information, visit: www.luxloungeefr.com